Impact Velocity
Update 0.03 & Announcements
---
Changes:
Enemy missiles have been added, with fragmentation warheads.
Player missiles are now one-hit weapon's against all planned enemy types, and a bright flash has been added upon the missile's detonation.
Menu music has been changed to March No. 1 "The Stars Themselves".
Decoys have been added (flares,) to counter enemy missiles.
Both player and enemy ships now have a boost mechanic, letting them accelerate much faster at the expense of fuel economy.
Some HUD fonts changed.
Ammo displays have been changed to be more intuitive and easily understood.
Enemy fighter sprites have been changed to new higher resolution sprites.
Enemy fighter cannon rounds are now placed much closer together.
Enemy fighters can now launch missiles.
Announcements:
Development had been slowed during the holiday season, but has now been picked back up. During the holiday season I spent more time getting specifics for factions and vehicles fleshed out, and work on that aspect is progressing amazingly.
Particle effects have been dropped, as the initial implementation of them was nearly game-breaking.
More of the official music has been released on Soundcloud, so take a listen: https://soundcloud.com/joseph-bergstrom
Expanded enemy varieties were planned for this update, but balancing proved to be an issue. Later updates will introduce an Anti-Fighter Frigate, and possibly light capital ships.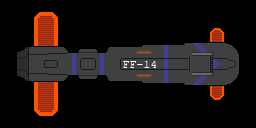 An Enemy Anti-Fighter Frigate

Enemy Fighter
Work on a campaign has not started yet, and likely will not until we add and polish enough of the core mechanics to feel comfortable with what we have.
Last Words:
Feedback is always appreciated, and we'd like to know what you think about the changes.
- Joseph Bergstrom, Lead Designer & Programmer
Files
Impact Velocity v0.03.exe
16 MB
Jan 11, 2018